My grade eight students created portraits using Chuck Close's grid technique and got some amazing results!
Click Here to find out more about American artist Chuck Close.
Chuck Close is inspiring for not only his amazing artwork but also for his perseverance and triumph over many difficulties he has faced in his life.
Chuck Close makes larger than life portraits using a grid techinique.
(Like all his portraits the one below is actually wall size)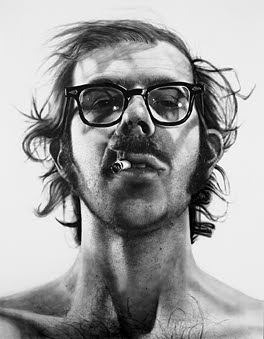 (Self Portrait 67-68)
I encourage everyone to google Close's life story. It's really amazing.
Taking from Close's grid process, I had students implement the same procedure Close uses. (See photo above)
Students selected a photo from a magazine or home that was able to be cropped to 6 inches by 9 inches.
Next, students drew a one inch grid on top of the photo.
(Photos were photo copied to make all photos gray scale. This makes shading in pencil a little easier.)
To create larger portraits that were proportionately accurate, everything had to be doubled.
This means students created a 2 inch grid on 12×18 inch paper. (This is double the 6×9 size of the photo and the one inch grid).
Once everything was prepped, it was time to start creating. Students were told to fill in one square at a time. Instead of worrying about getting the overall "look" correct, students were told to only focus on one square at a time. Square by square the portraits started to come together. Students made and used a "view finder" to help them focus on one individual square at a time.
I am so proud of all my students for completing such a challenging assignment!